In this article, we will delve into the details of the highly anticipated movie '12th Fail,' directed by Vidhu Vinod Chopra and starring Vikrant Massey. This film, inspired by real-life stories, is set to release in theaters on October 27, 2023. Join us as we explore the essence of the movie and the behind-the-scenes efforts that went into its making.
'12th Fail' – A Cinematic Tribute to Aspiring IAS and IPS Students
'12th Fail' is a remarkable cinematic endeavor that aims to pay homage to the dreams and determination of countless Indian students aspiring to become IAS or IPS officers. It's based on the best-selling book of the same name and is a collaboration between Zee Studios and director-producer Vidhu Vinod Chopra.
IMDb: 12th Fail
The Backstory: Real-Life Inspiration
The film draws inspiration from the lives of IPS Officer Manoj Kumar Sharma and IRS Officer Shraddha Joshi. It's not a biographical account but rather a portrayal of the profound impact one individual can have through their integrity and dedication.
The Protagonist: Vikrant Massey
Vikrant Massey plays the lead role in '12th Fail,' and his portrayal of the character requires extensive preparation. He immersed himself in the world of aspiring UPSC students, even visiting Mukherjee Nagar and surrounding areas. His commitment to authenticity led him to focus on mastering the Chambal dialect. The film also benefits from the participation of real UPSC aspirants, adding a layer of authenticity that is sure to resonate with the audience.
Real Locations for Real Stories
Vidhu Vinod Chopra, known for his dedication to authenticity, chose to shoot '12th Fail' in real-life locations. A significant portion of the film was shot in Delhi, including Mukherjee Nagar and Old Rajendra Nagar, where the lives of UPSC aspirants unfold.
The Teaser: A Glimpse into the Authentic World of UPSC Students
The recently released teaser of '12th Fail' has already piqued the audience's interest. It promises an authentic portrayal of the lives and struggles of UPSC students, based on true stories and filmed in real locations with real students. The teaser offers a glimpse into the journey of grit, integrity, determination, and enduring friendships that define these students' lives.
12 Fail Book Summery(Audio Book)
The book "12 Fail" provides readers with a glimpse into the relentless pursuit of excellence and the unwavering determination of those who aspire to serve their nation as IAS and IPS officers. '12th Fail' is more than a story; it's an ode to the resilience of the human spirit and a source of inspiration for countless aspiring officers and dreamers across the country.
12th Fail Book PDF
Anurag Pathak wrote a book titled Hara Vahi Jo Lada Nahi, which was released in 2021. It is the story of Manoj Kumar Sharma, an IPS officer who failed his 12th board exams. However, he did not give up and eventually went on to achieve his dream of becoming a civil servant. Here are the links to the 12th fail book pdf, which you can buy from Amazon.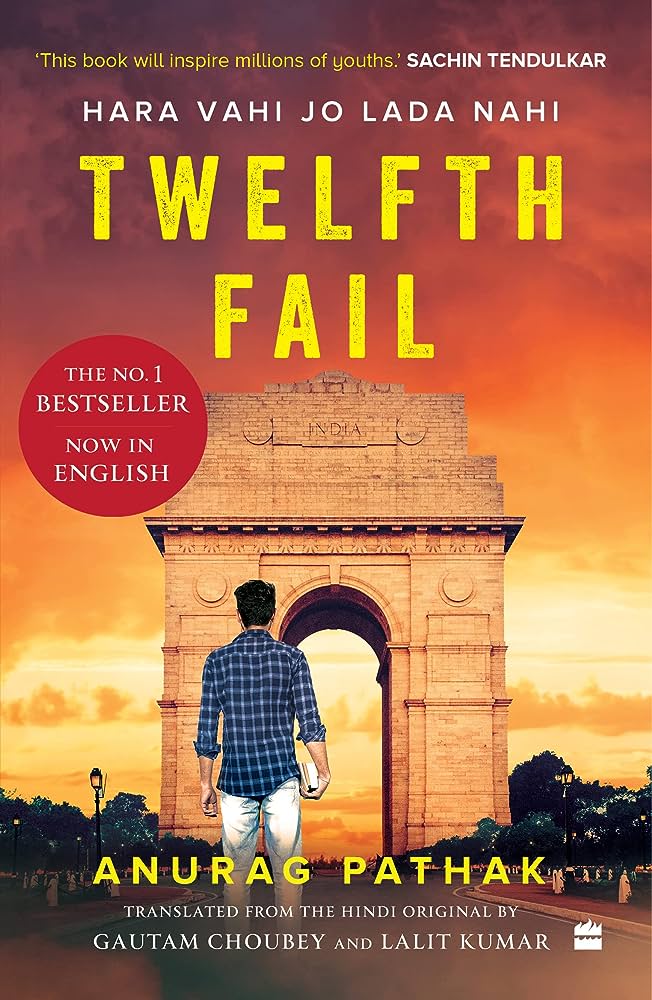 English Edition
Buy From Amazon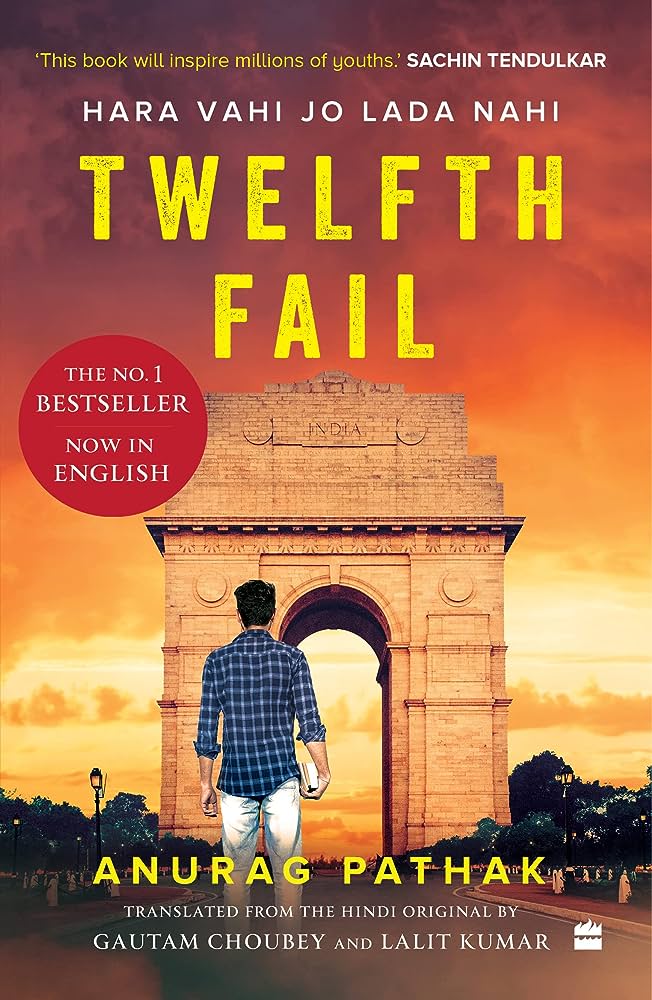 Kindle Edition
Buy From Amazon ₹0
Conclusion: '12th Fail' – A Must-Watch Cinematic Gem
'12th Fail,' slated for release on October 27, 2023, is more than just a film; it's a tribute to the dreams and aspirations of countless young Indians. With a stellar cast led by Vikrant Massey and the meticulous direction of Vidhu Vinod Chopra, this movie promises to be a transformative and deeply moving experience for audiences across India and beyond. Don't miss this opportunity to witness the authentic portrayal of the UPSC journey and the indomitable spirit of aspiring IAS and IPS officers.
You may also like to read: Shah Rukh Khan's Jawan Breaks All Records
FAQ's
Which movie is about IPS Manoj Kumar Sharma?

12th Fail, directed by Vidhu Vinod Chopra, is a movie about IPS Manoj Kumar Sharma. It is scheduled to be released on October 27, 2023.

What is the 12th Fail book of Manoj Kumar?

12th Fail is a biography of IPS Manoj Kumar Sharma written by Anurag Pathak. It was published in 2019.

Who are the actors in the 12th Fail web series?

It's not a web series, it's a movie directed by Vidu Vinod Chopra. The cast of the 12th Fail movie has Vikrant Massey in the lead role of IPS Manoj Kumar Sharma and the supporting cast includes: Pallak Lalwani, Medha Shankar, Priyanshu Chatterjee, Sanjay Bishnoi and Harish Khanna

Is there any 12th fail IAS?

Yes, there is at least one known 12th failed IAS officer, Manoj Kumar Sharma. He failed in all subjects except Hindi in his 12th board examination, but he went on to clear the UPSC Civil Services exam in his fourth attempt and became an IPS officer.